Vous n'êtes pas identifié(e).
ESTfan

Administrateur

Lieu : Tunisie / KSA

Inscription : 25-08-2008

Messages : 42 636
The never-ending final: CAF set to hear 'walk-out' Wydad's... appeal
The never-ending final: CAF set to hear 'walk-out' Wydad's Champions League appeal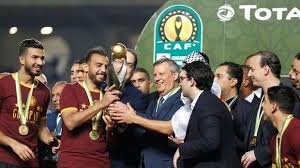 13th September 2019
By Osasu Obayiuwana
The African Champions League drama takes a further twist on Sunday 15 October, as the Appeals Committee of the Confederation of African Football (CAF) sits to consider the appeal of Moroccan Club Wydad Casablanca.
CAF's Disciplinary Committee (DC), led by former South African FA CEO Raymond Hack, awarded the title to Tunisian club Esperance Sportive de Tunis on August 7, after it ruled that the Wydad abandoned the May 31 final at Rades, after disputing a disallowed goal.
"Wydad is considered to have lost the game in the final's 2nd leg, [and] a fine of $20,000 is imposed on the club for the abandonment of the match," the Disciplinary Committee decided.
Their decision was based on the application of Paragraph 17 Section 11 of CAF's Champions League rules, which states that: "If for any reason whatsoever, a team withdraws from the competition or does not report for a match – except in case of force majeure accepted by the Organising Committee or if it refuses to play or leaves the ground before the regular end of the match without the permission of the referee, it shall be considered loser and shall be eliminated from the competition."
A source within CAF, close to the Appeals Committee, told Insideworldfootball that a 95-page document has been prepared for the consideration of the Appeals Board when it sits on Sunday. AU Mustapha, a leading Nigerian lawyer, is the chair of CAF's Appeal Committee.
Should Wydad fail to overturn the decision of the DC, which is extremely remote – as they applied the CAF rules correctly – they have the right to appeal to the Court of Arbitration for Sport.
Esperance have been unable to collect their Champions League winners' cheque of $2.5 million, as a result of this appeal, as CAF said that it would not make the payout until a "final judicial verdict" had been reached on the May 31 final by CAF's legal bodies.
The 2020 Champions League final – and all subsequent finals – as a result of what happened in Rades, will now be a single game at a neutral venue.
neder bachbaoueb

Coopérateur

Lieu : hammam lif

Inscription : 19-06-2008

Messages : 6 886
Re : The never-ending final: CAF set to hear 'walk-out' Wydad's... appeal
15 octobre ou 15 septembre
Toto

TarajjiManiaque

Lieu : Riyadh KSA

Inscription : 27-07-2002

Messages : 2 836
Re : The never-ending final: CAF set to hear 'walk-out' Wydad's... appeal
15 sept bien sur puisqu il precise Sunday or 15 Oct c est un mardi.