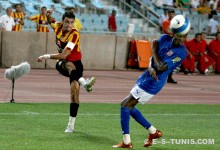 Perpetuating a tradition that started with the Dynamos FC – Esperance ST match preview, E-S-Tunis.com publishes today the Al Ahly – Esperance ST match preview in two languages. Bilingual previews will be offered whenever our Esperance meets teams from Anglophone countries, or countries where English is either the second language or the first foreign language. Enjoy!
The Orange CAF Champions League 2010 semi-finals mark the time for the clash of the titans. Six times title holders, Al Ahly of Egypt, play, at home, Tunisian giants, Esperance Sportive de Tunis. Unpredictable !
Previous matches
The two teams have met on three occasions in the prestigious CAF Champions League, formerly referred to as CACC (the acronym for the French "Coupe d'Afrique des Clubs Champions").
In 1990, after 0 – 0 draws in Tunis and Cairo, Esperance managed to get through to the quarter-finals after winning the penalty shoot out 2 – 4. A memorable game for Esperance fans, but particularly for Tunisian football legend, Emperor of Arab football, Tarak Dhiab, who played his last match for Esperance.
In 2001, Esperance held Al Ahly to a draw (0 – 0) in Cairo. In the return leg, Tunisian champions led thanks to a goal by Tunisian-Brazilian Adailton only to see their hopes to qualify turn ephemeral as Sayed Abdul Hafidh equalizes and offers the ticket to the final match to his team. A bitter unforgettable turn for Esperance and its fans!
In 2007, Esperance was at its worst. Not being properly prepared for the tournament, the Tunisian team lost to Al Ahly 3 – 0 in Cairo, but managed to win, against all odds, back in Tunis, at El Menzah stadium, 1 – 0 after a masterful Ksadaoui shot.
Unpredictable and tough though the game might be, "Blood and Gold" fans place their hopes in the current talented generation of players to set the African football clock back and offer them another grand finale on the path to re-conquering the CAF Champions League trophy.
Team Lineup
In spite of the secrecy surrounding the team's training sessions in Tunis and in Cairo, Esperance is most likely to be represented in today's game by :
Naouara, Ben Amor, Chammam, Hicheri, Ben Mansour, Korbi, Traoui, Afful, Khalifa, Darragi et Eneramo.
It would still be possible to see Ben Youssef, Ayari and/ or Msakni begin the game or join in the course of the match.
The Red and the White
It is certainly not a new novel by Stendhal!
As guests, Esperance will play in two-starred white jerseys, epitome of their more than 20 local championship titles won, with black shorts and socks. Al Ahly will play with its traditional red colours as it is the host team.
Orange CAF Champions League 2010 Semi-Finals: Matches and Referees
The Kenya Stadium, Lubumbashi, 14:30 hours (Tunisian time)
TP Mazembe - JS Kabylie
Senegalese referees:
Referee: Diatta Badara
1st assistant referee: Thiare Mamadou
2nd assistant referee: Diakhate Moussa
Reserve Referee: Fall Ousmane
Cairo International Stadium, Cairo, 18:30 hours (Tunisian time)
Al Ahly - Espérance
Libyan referees:
Referee: Al Raa'i Adel
1st assistant referee: Abul Kheir Khaled
2nd assistant referee: Mehmed Nasruddin
Reserve referee: Rajab Mohamed
Note that the Esperance game will be broadcast live on Aljazeera Sport +9.
Good luck to our players and may success be the reward for all their efforts!