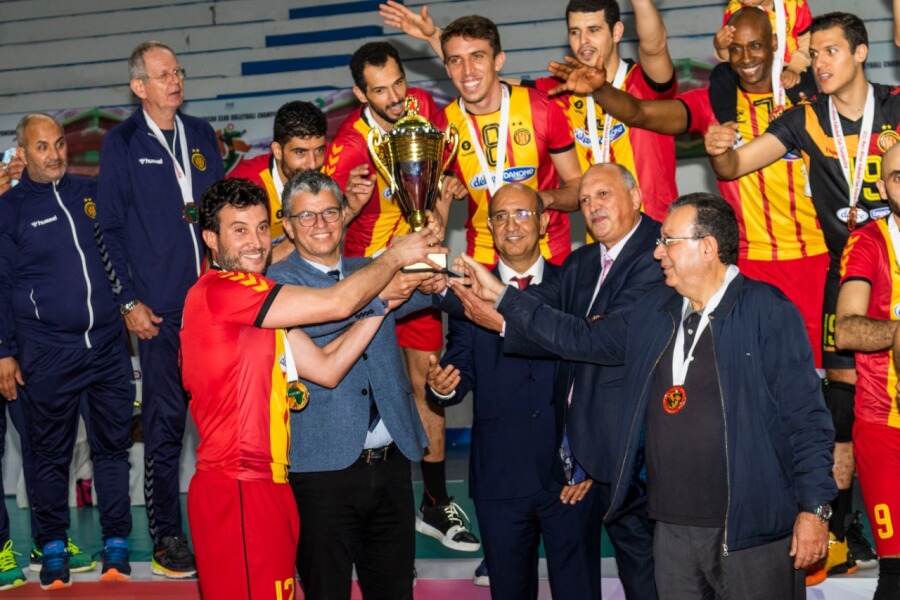 Tunis, Tunisia, April 27, 2021 - Esperance of Tunisia captured the 2021 Men's African Club Championship title following their victory over Zamalek 3-0 (25-20, 25-23, 25-10) in the final of the competition held at Sidi Bousaid Hall in Tunis, Tunisia on Tuesday.
The victory is the fifth for the North African team after they clinched the title in 1994, 1998, 2000 and 2014, to equalize Zamalek's record as they gained the title in 1984 ,1987, 2008, 2009 and 2012.
Esperance led the match from the start till the end and didn't allow Zamalek to come back except for a few moments in the second set.
Meanwhile, Swehly of Libya claimed their first ever medal in the African championship after they upset Kelibia of Tunisia 3-0 (25-21, 25-19, 25-19) in the bronze medal match of the 2021 Men's African Club Championship in Tunis, Tunisia on Tuesday.
The Italian Leonel Marshal led the winner's scorers with 14 points, while Abiud Chirchir led Kelibian scorers with 13 points.
The Libyan team dominated the match and succeeded to control the net action and organised their attacks through their skillful setter Abdel Rahman Dghdanna to win their first medal after they have finished 5 times before in the 4th position.
Final Ranking
1- Esperance (Tunisia)
2- Zamalek (Egypt)
3- Swehly (Libya)
4- Kelibia (Tunisia)
5- Kenya Ports Authority (Kenya)
6- Port Douala (Cameroon)
7- GSU (Kenya)
8- Nemostar (Uganda)
9- Rwanda Energy (Rwanda)
10- APR (Rwanda)
11- Nigeria Customs (Nigeria)
12- MTC (Tanzania)
13- Espoir (RD Congo)
14- Rukinzo (Burundi)
15- Wolaita Dicha (Ethiopia)
16- SOA (Cote d'Ivoire)