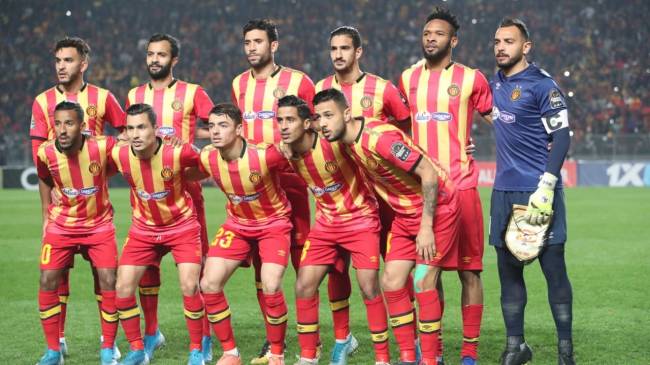 By avoiding defeat on Saturday (25 January 2020) evening at home to Moroccan side, Raja Club Athletic, in the penultimate group stage round of the 2019-20 Total CAF Champions League, holders Esperance have set a new record in the continent's premier club competition.
The "Blood and Gold" has now gone 20 games unbeaten in the CAF Champions League, breaking the previous record held by Egyptian giants and eight-time champions Al Ahly. The Cairo-based Red Devils went 19 games without defeat between 2005 and 2006, only for rivals Esperance to write a new chapter after Saturday's draw.
The last time Esperance tasted defeat in the Champions League dates back to 2 November 2018, when they lost the first leg of the 2018 Total CAF Champions League final to Ahly 3-1 in Alexandria. Since then, Esperance has managed a record 13 wins and seven draws in their last 20 games. They have bagged back-to-back CAF Champions League trophies in the process, doubling their overall tally to four titles.
Following is how they achieved that record;
(1) 09.11.2018 Esperance 3-0 Al Ahly (Egypt)
(2) 11.01.2019 Horoya (Guinea) 1-1 Esperance
(3) 18.01.2019 Esperance 2-0 Platinum (Zimbabwe)
(4) 02.02.2019 Orlando Pirates (South Africa) 0-0 Esperance
(5) 12.02.2019 Esperance 2-0 Orlando Pirates (South Africa)
(6) 08.03.2019 Esperance 2-0 Horoya (guinea)
(7) 16.03.2019 Platinum (Zimbabwe) 1-2 Esperance
(8) 06.04.2019 CS Constantine (Algeria) 2-3 Esperance
(9) 13.04.2019 Esperance 3-1 CS Constantine (Algeria)
(10) 27.04.2019 Esperance 1-0 TP Mazembe (DR Congo)
(11) 04.05.2019 TP Mazembe (DR Congo) 0-0 Esperance
(12) 24.05.2019 Wydad (Morocco) 1-1 Esperance
(13) 31.05.2019 Esperance – Wydad [1-0] (Esperance declared winners after the match was abandoned)
(14) 15.09.2019 Elect Sport (Chad) 1-1 Esperance
(15) 27.09.2019 Esperance 2-1 Elect Sport (Chad)
(16) 30.11.2019 Raja (Morocco) 0-2 Esperance
(17) 06.12.2019 Esperance 1-0 JS Kabylie (Algeria)
(18) 27.12.2019 Esperance 0-0 AS Vita (DR Congo)
(19) 11.01.2020 AS Vita (DR Congo) 0-2 Esperance
(20) 25.01.2020 Esperance 2-2 Raja (Morocco)