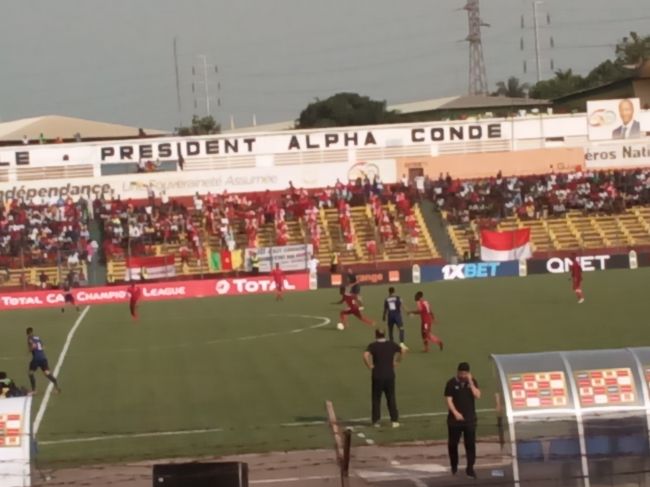 A 93rd-minute goal saw Tunisia's Esperance Tunis save face as they drew 1-1 with Guinea's Horoya in a CAF Champions League, Group B match at the Stade du 28 Septembre on Friday night.
It looked for all money that a 68th-minute goal from Ocansey Mandela would seal the deal for Horoya in what was a very tightly contested affair, but that was not to be the case when Anice Badri equalised for the Tunisian side in injury time.
The performance for Horoya was a far cry from the one they produced to get to this stage of the Champions League. The Guinean side advanced to the group stage after eliminating Libyan club Al Nasr in the first-round tie towards the end of last month.
The reigning Guinean Championnat National champions secured a 6-5 victory on aggregate - winning 6-2 at home in the second-leg clash.
For Esperance, they will be bitterly disappointed with their showing as they are the current defending champions of the CAF Champions League which saw them automatically qualify for the group stage.
The performance from the Tunisians on Friday night was a lacklustre one as they fired blanks in attack until the dying seconds of the game.
Horoya, though, will still count themselves fortunate to get a point after only really mounting one serious attack which led to the goal from Mandela.
Horoya are in action in the CAF Champions League again next week Friday, 18 January against South Africa's Orlando Pirates while Tunis will face FC Platinum on the same day.
Horoya (0) 1 (Mandela 68') Esperance (0) 1 (Badri 93')
Teams
Horoya: Berthe, Camara, Fofana, Asante, Yakubu, Mensah (Lingani 77'), Camara, Sebe, Bolaji (Dipita 87'), Haba, Ocansey.
Esperance: Jeridi, Derbali (Mejri 78'), Dhaouadi, Chammam, Ben Mohamed, Coulibaly, Chaalali (Rjaeibi 90'), Badri, Belaili, Meziani (Meskini 58'), Khenissi.