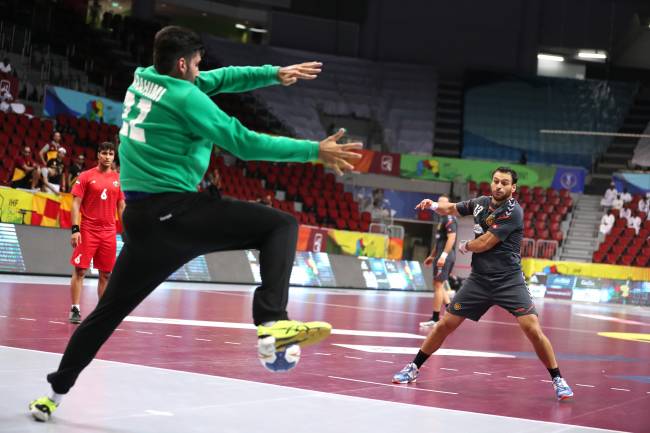 Here are the fixtures for the African Handball Champions League 1st round due October 20-29 in Hammamet, Nabeul and Beni Khiar:
Tunisia's Esperance ST will play in Group A along Cameroon's FAP, Congo's Caiman, Rwanda's APR HC and DR Congo's JSK.
Group B includes Zamalek (Egypt), Wydad Smara (Morocco), Red Star (Cote d'Ivoire), Ittihad (Libya) and Phoenix (Gabon).
The 2nd Tunisian participating team AS Hammamet will play in Group C with Egypt's Ahly, Libya's Al Ahly, Cameroon's FANZ HB and DR Congo's HC OKA.
Day 1:
October 20:
Hammamet:
(Group C): Al Ahly (Egypt) v Ahly Tripoli (Libya)
Nabeul:
(Group A): Espérance ST (Tunisia) v APR HC (Rwanda)
Nabeul:
(Group B): Red Star (Côte d'Ivoire) v Zamalek (Egypt)
(Group A): FAP (Cameroon) v JSK (DR Congo)
Hammamet:
(Group B): Widad Smara (Morocco) v Ittihad (Libya)
Hammamet:
(Group C): AS Hammamet (Tunisia) v HC OKA (DR Congo)
October 21:
Hammamet:
(Group C): FANZ HB (Cameroon) v Al Ahly Tripoli (Libya)
Nabeul:
(Group A): Espérance ST (Tunisia) v JSK (DR Congo)
Hammamet:
(Group A): APR HC (Rwanda) v Caiman (Congo)
Nabeul:
(Group B): Ittihad (Libya) v Zamalek (Egypt)
Hammamet:
(Group B): Phoenix (Gabon) v Wydad Smara (Morocco)
Nabeul:
(Group C): Al Ahly (Egypt) v HC OKA (DR Congo)
October 22:
Nabeul:
(Group C): HC OKA (DR Congo) v Al Ahly Tripoli (Libya)
Hammamet:
(Group B): Wydad Smara (Morocco) v Red Star (Côte d'Ivoire)
Nabeul:
(Group A): Caiman (Congo) v FAP (Cameroun)
Beni khiar:
APR HC (Rwanda) v JSK (RD Congo)
Hammamet:
(Group C): AS Hammamet (Tunisia) v FANZ HB (Cameroon)
Nabeul:
(Group B): Phoenix (Gabon) - Ittihad (Libya)
October 23:
Hammamet:
(Group A): Espérance ST (Tunisia) v FAP (Cameroon)
Nabeul:
Caiman (Congo) v JSK (RD Congo)
Hammamet:
(Group B): Zamalek (Egypt) v Phoenix (Gabon)
Nabeul:
(Group C): Al Ahly (Egypt) v FANZ HB (Cameroon)
Hammamet:
(Group C): AS Hammamet (Tunisia) v Al Ahly Tripoli (Libya)
Nabeul:
(Group B): Red Star (Côte d'Ivoire) v Ittihad (Libya)
October 24:
Hammamet:
(Group A): Espérance ST (Tunisia) v Caiman (Congo)
Beni Khiar:
FAP (Cameroun) - APR HC (Rwanda)
Nabeul:
(Group B): Red Star (Côte d'Ivoire) v Phoenix (Gabon)
Hammamet:
(Group B): Zamalek (Egypt) v Wydad Smara (Morocco)
Hammamet:
(Group C): Al Ahly (Egypt) v AS Hammamet (Tunisia)
Nabeul:
FANZ HB (Cameroun) - HC OKA (RD Congo)