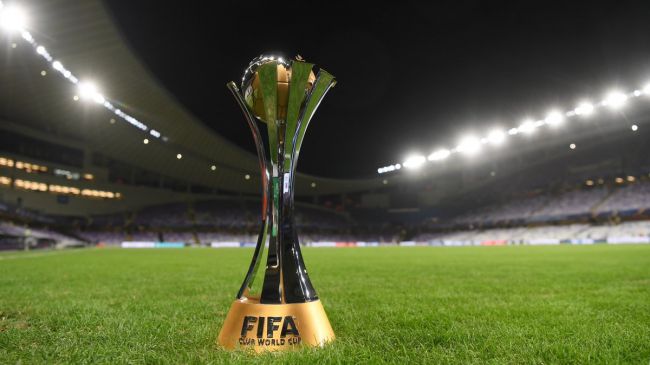 The United States will host the Club World Cup in 2025, the first time the FIFA tournament will have 32 teams.
Real Madrid, Manchester City and Chelsea already earned places as recent Champions League winners for the expanded tournament lineup that is set to test stadiums and operations one year before the 2026 World Cup.
The U.S. will host the men's World Cup with Canada and Mexico, and FIFA could yet give some Club World Cup games to those countries.
The Club World Cup will take place in June-July 2025. The U.S. was chosen as host during an online meeting of the FIFA Council.
FIFA praised "the United States' position as a proven leader in staging global events and because it would allow FIFA to maximize synergies with the delivery" of the 2026 tournament.
The Seattle Sounders FC also are in the lineup for the Club World Cup as the 2022 champion of North American football region Concacaf. The Americans are likely to get another entry as the host nation.
Storied European teams have visited the United States for preseason friendly games for years but the expanded club tournament will give fans a rare chance to see 12 of them play competitive games.
FIFA said in March the basic qualification path for clubs was to win a continental championship in any of the four years from 2021 to 2024 in the five main confederations: Africa, Asia, Europe, North America and South America.
Europe with 12 teams and South America with six are the only continents with more than four entries. Extra places are expected to be awarded according to team rankings by results a four-year span in continental competitions.
The current seven-team Club World Cup for continental champions played every season creates little broad appeal and FIFA has long wanted to stage a full-sized tournament every four years.
This expanded version in 2025 is a huge commercial opportunity for FIFA to try new broadcasting models and sign new sponsors, funding hundreds of millions of dollars in prize money for the clubs.
The influential European Club Association said in March it hoped for talks with FIFA on how to manage the commercial rights.
The format for a Club World Cup lasting about three weeks has yet to be decided. One option is guaranteeing the 32 teams at least three games each playing in eight groups of four.
The eight group winners could then advance to the quarterfinals. That would create a tournament of 56 games if a third-place game is included.
The current annual Club World Cup format will continue with a final edition scheduled for December in Saudi Arabia.
Reviving the Club World Cup was a priority for FIFA president Gianni Infantino on being elected in 2016, but his first project plan was blocked. A Saudi-linked $25 billion deal with Japanese technology investor SoftBank provoked anger from European football officials who saw it as secretive and an overreach by FIFA.
FIFA got agreement in 2019 for a 24-team event to launch in June 2021 in China, but that was canceled because of the coronavirus pandemic before commercial details had been confirmed.
FIFA came back with a fresh Club World Cup plan after the Super League project led by an elite group of clubs quickly failed in April 2021 while causing turmoil for European football body UEFA.
Other teams already qualified for the 2025 Club World Cup are: Palmeiras (Brazil), Flamengo (Brazil), Monterrey (Mexico), Leon (Mexico), Al-Ahly (Egypt), Wydad Casablanca (Morocco), Urawa Red Diamonds (Japan) and Al Hilal (Saudi Arabia).