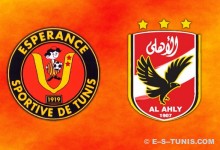 Perpetuating a tradition that started with the Dynamos FC - Esperance ST match preview and continued with that of the first leg of the Al Ahly - Esperance ST semi-final, E-S-Tunis.com publishes today the Esperance ST - Al Ahly (second leg) match preview in two languages. Bilingual previews will be offered whenever our Esperance meets teams from Anglophone countries, or countries where English is either the second language or the first foreign language. Enjoy!

The words used to title this match preview are not really mine. They are the words uttered in tears and wrung out of days of suffering in Cairo detention centers by Esperance detained fans on touching Tunisian soil. Most momentous are the words and most legitimate is the demand! The least our "Blood and Gold" players could do to wipe out their precious tears and those of their families - and give those tears further significance - is to cruise on to the grand finale, and, subsequently, do their best to bring home and offer them the Orange CAF Champions League trophy.

Media Wars

Chauvinist as it has been, Egyptian media still swims against the current of common sense and tangible proof. Trying to compensate for the defects of its representative team, nowhere near its former identity, it attempts to discredit its opponent, and to this end, all means are justifiable! However, Facebook and other e-media, in an IT world, are only there to discredit the erring media itself. While the Egyptian media holds on to a manufactured version of what happened, the IT world looks down on it, laughs and goes on!

Tunisian media is no better in the sense that, for various, no-longer ambiguous, reasons, it chose to cave in. The Tunis 7 TV programme "Stade 7", though relatively, but mainly Esperance dedicated websites, expended valuable efforts to pull themselves out of the prevailing air of mediocrity hovering over our media world.

Honouring Abou Trika? A Media Hoax!

The Egyptian media has abused of rumours to the extent that it fell prey, along with some Al Ahly players, to its own machinations. An Egyptian media rumour had it that Esperance president Mr. Hamdi Meddeb had plans to honour Abou Trika in the Rades fixture of the semi-final. After the first Cairo leg, in another media heroism show, Abou Trika is reported to have declared to the hailing media that he would turn down the president's initiative, invented by the insidiously fertile imagination of its author, in compassion with the Egyptian policemen, turned into innocent victims by virtue of sustained media lies.
Abou Trika one of the victims of the Egyptian media machine!

Esperance president, Mr. Hamdi Meddeb, told Al Arabiya TV channel such an idea had never crossed his mind. A sheer rumour spread by Egyptian media and mistaken for a reality by the player.

Previous Matches

This is the fourth time Esperance and Al Ahly meet in the race for the most coveted title in African premier club football competitions. The paths of the two teams have intercrossed on three previous occasions in the prestigious CAF Champions League, in both its old and new versions.

In 1990, after 0 - 0 draws in Tunis and Cairo, Esperance managed to get through to the quarter-finals after winning the penalty shoot out 2 - 4. A memorable game for Esperance fans, but particularly for Tunisian football legend, Emperor of Arab football, and African Golden Ball (1977), Tarak Dhiab, who played, then, his last match for Esperance.

In 2001, Esperance held Al Ahly to a draw (0 - 0) in Cairo. In the return leg, Tunisian champions led thanks to a goal by Tunisian-Brazilian Adailton only to see their hopes to qualify turn ephemeral as Sayed Abdul Hafidh equalizes and offers the ticket to the final match to his team. A bitter unforgettable turn for Esperance and its fans!
Zaiem, Adriano and Aboucherouane in the reverse fixture of 2007
 
Salama Kasdaoui goal scorer of the match

In 2007, Esperance was at its worst. Not being properly prepared for the tournament, the Tunisian team lost to Al Ahly 3 - 0 in Cairo, but managed to win, against all odds, back in Tunis, at El Menzah stadium, 1 - 0 after a masterful Kasdaoui shot.
Eneramo and Darragi battling with Al Ahly defenders in the first leg of the semi-final

In this edition's first leg of the semi-final, Libyan referee Adel Arra'ii performed better than all of Al Ahly players combined and led them to a 2 - 1 slim win. An erasable result, thanks to Darragi's goal, despite the referee's dubious efforts!

Absences and Reappearances

Only Bouazzi, who underwent a surgery a few weeks ago, will be missing on the Esperance side. All the other players will be at the disposal of head coach Benzarti and his assistant Kanzari for this Sunday's crucial clash.

Al Ahly are no worse. Although Oussama Hosni, Mohamed Talaat and Francis Doe Forkey remained in Egypt, only the Liberian's absence might be felt as the other two have often been substitutes.

Instead, Al Ahly coach will have further solutions as the Egyptians get back to their fold Ahmad Naji (Jeddou), Houssam Ghali and Sayed Mouawadh.

Teams Lineup
All Esperance players at the disposal of their coach!

Following the team's performance in the first leg semi-final clash, and as the latest training sessions indicate, Esperance is most likely to be represented in the reverse fixture by :

Naouara, Afful, Chammam, Hicheri, Ben Mansour, Traoui, Korbi, Msakni, Khelifa, Darragi and Eneramo.

It would still be possible to see Ayari, Toindouba and Derbali and/ or Ben Amor join in the course of the match.

Al Ahly will possibly start with :

Ikrami - Adbel Fadhil - Mouawadh - Sayed - Jomâa - Fethi - Achour - Ghali (Shihab) - Abou Trika - Barakat - Fadhl (Jeddou).

Match Tickets Sold Out, Season Tickets Available

Match tickets were all sold out in half a day's time. Esperance fans, who haven't bought their tickets yet, are left with the option of purchasing season tickets to be able to watch the reverse fixture at the Rades stadium. These might turn out to be cheaper and a better bargain than match tickets sold at the black market, with their prices constantly going up.
Esperance fans to swarm Rades stadium

It is noteworthy to mention that club president Mr. Hamdi Meddeb bought and offered 5000 match tickets to Al Ahly supporters.

The great will always be great!

Fixture and Referees

7th November Stadium, Rades, at 19:15

Esperance ST (Tunisia) - Al Ahly (Egypt)
Hopes are that the Ghanaian J. Lamptey will be impartial, unlike Libyan A. Erra'ii !

Ghanaian referees:

Referee: Joseph O. Lamptey
1st assistant referee: Ayuba Haruna
2nd assistant referee: Ibrahim A. Badiu
Reserve referee: Reginald Lathbridge

Présentation du match en langue française >>