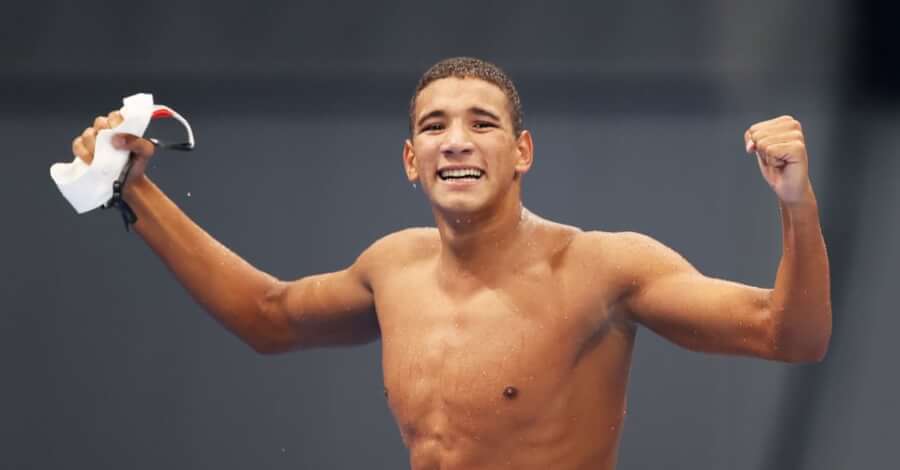 Learn more about the teenage Tunisian swimmer, who caused a huge upset to win 400m freestyle gold at Tokyo 2020.
Tunisian swimmer Ahmed Hafnaoui shocked the world on the first night of swimming finals at Tokyo 2020.
After qualifying for the men's 400m freestyle final in 8th place, the 18-year-old beat a star-studded field to land his nation's fifth Olympic gold medal ever.
Here are five things to know about the swimmer.
1 - Youth Olympic Games graduate
Hafnaoui joined Tunisia's national swimming programme as a 12-year-old.
He competed in the 200m, 400m and 800m freestyle at the 2018 Youth Olympic Games in Buenos Aires, finishing 8th in the 400m and 7th in the 800m.
2 - Olympic final underdog
Hafnaoui swam a 3:45.68 time in the 400 freestyle prelims to qualify in 8th place for the men's 400 freestyle final.
In the final he touched home in 3:43:36, ahead of Australian Jack McLoughlin and American Kieran Smith in second and third respectively.
In 2019, he told Tunisian outlet La Presse that he was aiming to win his first gold medal at the Tokyo 2020 Olympics, but at the 800!
3 - Tunisian history maker
Growing up Hafnaoui's idol was Tunisian distance swimming legend Oussama Mellouli , who won the 1500m at Beijing 2008 and the 10km marathon swim at London 2012.
Hafnaoui has now become his nation's second swimming gold medallist ever, and first in the 400m freestyle.
Tunisia's Oussama Mellouli triumphed in one of the most gruelling events in the Games, winning the men's 10km Marathon gold in the open water of the Serpentine.
4 - Tunisia at the Olympics
The north African nation has now won a total of five gold medals at the Olympic Games.
In addition to Hafnaoui and Mellouli, runner Mohammed Gammoudi won gold in the 5000m at Mexico City 1968, while 3000m steeplechase runner Habiba Ghribi won at London 2012.
5 - Strong sporting genes
Hafnaoui isn't the only athlete in his family.
The swimming prodigy is the son of ex-Tunisian national basketball player Mohamed Hafnaoui, which helps explain where his long limbs and and explosive muscle come from!