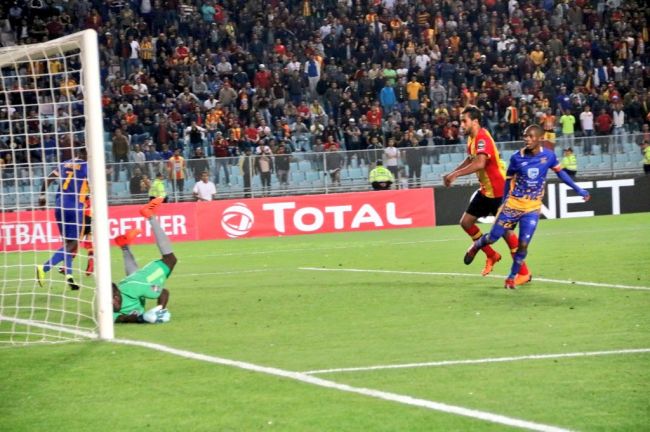 Esperance assumed top of Group A after a 4-1 victory over Township Rollers of Botswana on Tuesday in Rades near Tunis.
Following a tense start, the Tunisians were denied a penalty after Algerian-import Youcef Belaili was fouled by his marker Simisani Mathumo in the vital area.
Esperance kept pushing forward. And 17 minutes into the game, Bilel Mejri tried an attempt at goal that was met with an excellent save by Rollers goalkeeper, Mwampole Masule.
The consistent pressure by the 'Blood and Gold' paid off on 26 minutes when a header from Township defender, Tshepo Motlhabankwe, went the way of Belaili and he made no mistake to break the deadlock.
Four minute before recess, Segolame Boy struck a free-kick which beat Esperance goalkeeper Moez Ben Cherifia for the equalizer.
The homers effected their first substitution... at the start of the second half. Ghailane Chalali, who just recovered from injury, came in for Fousseny Coulibaly.
And 36 seconds into the second half, Anice Badri restored Esperance's lead from a Bilel Mejri assist.
On 76 minutes, Bilel Mejri came close to tripling the score for Esperance but his effort was saved by Masule. Mejri will be back in style three minutes later finishing off a three man move involving Belaili and Badri for the third goal.
In added-on time, Badri completed his brace by rounding of four Rollers defenders before firing past a hapless Masule to wrap up victory.
Esperance leads the pack on four points, Rollers and KCCA of Uganda follow in that order with three points each, whilst Egyptian giants Al Ahly sit at the bottom on a point.
Reactions
Khaled Ben Yahia (Head Coach, Esperance)
We played an excellent game today. The players were serious and well disciplined, applying everything we did in practice. We had difficulties in the last 15 minutes of the first half, after having conceded a goal. We won because or opponents were exhausted. They could no longer keep up with our pace. If the players had paid more attention, we could have easily won by five or six goals.
Anice Badri (Midfielder, Esperance)
We played a good game, even in the first half, despite having conceded. We managed to score four goals past the opponent; it's good for our confidence. We held on to the ball and worn our opponent down. I'm very satisfied and thankful for the result.
Nikola Kavazović (Head coach, Township Rollers)
It was because of the early goal. If we had survived the first 10 minutes of the second half, at an away game in front of this many supporters, I doubt that we would have lost this game. It's difficult, psychologically to get back in the game after the second goal. We managed to press for a while, but for the final 15 minutes, the players were exhausted from the long journey and lack of sleep.