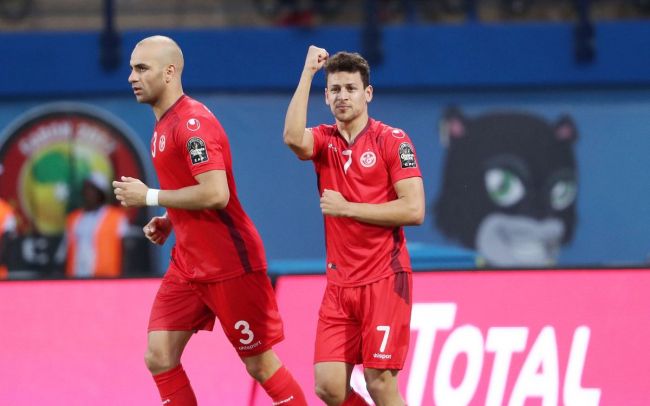 Tunisia captain Youssef Msakni led by example by squaring Taha Khenissi to score the only goal as the Carthage Eagles overcame Egypt in their Group J Day One clash on Saturday in Tunis.
The Qatari-based forward, by far his side's busiest player on the pitch with his constant raids upfront, sent a through ball to Khenissi to score the only goal of the match three minutes after the break.
A deserving result it was for the Carthage Eagles who had the better of the Pharaohs in the closely contested encounter, which summed up the Day One matches of the qualifiers for the Total Africa Cup of Nations Cameroon 2019.
Msakni was too hot to handle for the Egyptian backline which revolved around Ahmed Fathy, Ahmed Hegazy, Ali Gabr and Mohamed Abdelshafy, keeping the visitors' defence on their toes until he was replaced by Naima Sliti in the dying minutes.
Being the first competitive match for returnee coach, Nabil Maaloul, much was expected from the Tunisians and they made their intent clear with raids towards the Egyptians area from the onset.
Few minutes into game, defender Syam Ben Youssef was unlucky to see his header rattle the post to the relief of the Pharaohs. Minutes later, Egyptian goalkeeper Sherif Ekramy was forced to make a save off Msakni's low shot before Gabr saved the situation by stopping the latter's effort with his feet.
After failing to find the breakthrough, the Tunisians finally broke the deadlock on 48 minutes after a Msakni through pass found Khenissi, who fired past onrushing Ekramy for the goal that separated the two sides.
Abd Allah Said's effort that missed target on 56 minutes was the closest the Pharaohs came to drawing even in their improved second half.
The result sends Tunisia to the summit of Group J on three points, two more than Niger and Swaziland which played to a barren stalemate in the other clash earlier on Saturday in Niamey. Egypt is at the bottom pointless.
Results
Group A
9.06.2017 Obeid Sudan 1-3 Madagascar
10.06.2017 Dakar Senegal 3-0 Equatorial Guinea
Group B
10.06.2017 Yaounde Cameroon 1-0 Morocco
10.06.2017 Lilongwe Malawi 1-0 Comoros
Group C
10.06.2017 Bamako Mali 2-1 Gabon
10.06.2017 Bujumbura Burundi 3-1 South Sudan
Group D
11.06.2017 Blida Algeria 1-0 Togo
11.06.2017 Cotonou Benin 1-0 Gambia
Group E
9.06.2017 Cairo Libya 5-1 Seychelles
10.06.2017 Uyo Nigeria 0-2 South Africa
Group F
10.06.2017 Freetown Sierra Leone 2-1 Kenya
11.06.2017 Kumasi Ghana 5-0 Ethiopia
Group G
10.06.2017 Kinshasa DR Congo 3-1 Congo
11.06.2017 Harare Zimbabwe 3-0 Liberia
Group H
10.06.2017 Bouake Cote d'Ivoire 2-3 Guinea
11.06.2017 Bangui Central African Rep. 2-1 Rwanda
Group I
10.06.2017 Ouagadougou Burkina Faso 3-1 Angola
10.06.2017 Francistown Botswana 0-1 Mauritania
Group J
10.06.2017 Niamey Niger 0-0 Swaziland
11.06.2017 Tunis Tunisia 1-0 Egypt
Group K
10.06.2017 Ndola Zambia 0-1 Mozambique
10.06.2017 Bissau Guinea Bissau 1-0 Namibia
Group L
10.06.2017 Dar es Salaam Tanzania 1-1 Lesotho
11.06.2017 Praia Cape Verde 0-1 Uganda