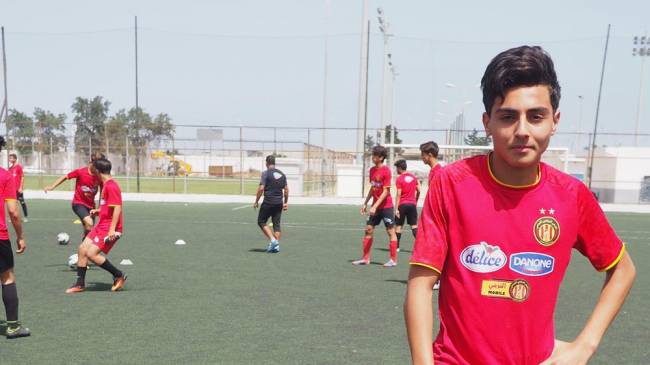 With the support of his family and friends, a teenager lives out his football dream in post-revolution Tunisia.
Khalil Melliti has always known his future would lead him into the heart of Tunisia's love of football.
"I've been mad about football since I was little. Right now I play for the best team in Tunisia, Esperance. My whole life is linked to football," says the 16-year-old Tunisian, who is the captain of the under-16 team of Esperance, a club that was founded in 1919 and has won the Tunisian league 27 times.
It is Khalil's father whose passion has inspired and driven both him and his brother to pursue football, a choice that his mother Aida supports and resents in equal measure.
"My family is passionate about football, so I had no choice but to follow them... the one thing that gets on my nerves is that sometimes it completely dominates our personal life. My hobbies and my past time have been taken away by football," says Aida.
His family even moved to central Tunis, close to Khalil's club and school, to make his life a little easier.
"It was tough to abandon our own house but there is nothing more important than my children," says Aida. "Not cars or houses or money. First, my children must grow and find their place, then everything will come naturally."
In late 2010, people took to the streets of Tunis to protest poor living conditions and a culture of corruption.
What is now referred to as the Tunisian revolution ended in the ousting of long-time president, Zine El Abidine Ben Ali, and is said to have triggered the Arab Spring.
The Tunisian peoples' love of football only grew post-revolution as they yearned for less political and more cultural activities to engage in.
"After the revolution, when you look at the situation in the country with economic and social problems everywhere, the only way we escape and express ourselves is through sports, and for me, it's football," says Khalil's father Moez, who works as a Tech sales manager but used to play football until an injury ended his career.
Both parents have made sacrifices to help their sons realise their true potential and ultimately their dream to play as professional footballers.
But life as a promising football professional requires a lot of sacrifice from the teenager himself, with a necessary focus on training while maintaining schoolwork. His mother is keen for him to do well in his exams and understand that life is about more than just kicking a ball.
"I must concentrate more on school than football, but if I look at my future, I see it more in football than school. I don't really like studying and that's a bad thing. We study from morning to evening and we can't find time for other things," says Khalil.
Regardless, he soldiers on in his quest for football greatness with full determination and the support of his family, friends and his country.
"Anybody playing football wants to win," he says. "Nobody wants to lose. We are still young and are learning from winning and losing but that's me. Since an early age, I can't stand losing. Always victory.
"My Tunisia is football. My Tunisia is school. It's my friends and family. My Tunisia is playing."