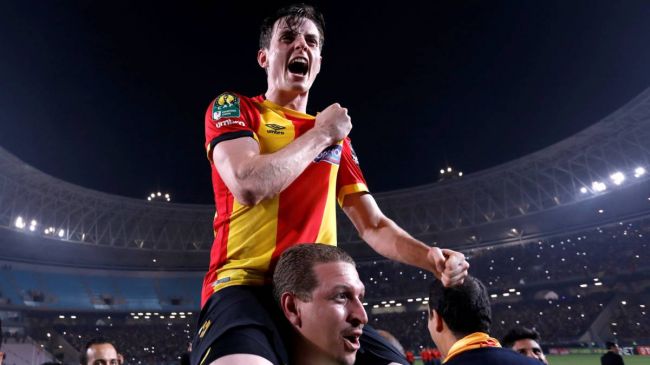 In an open letter addressed to club and fans, Ayman Ben Mohamed had this to say on leaving Espérance to join French Ligue 2 side le Havre AC. Thanks and best of luck Ayman!
It is with an extremely heavy and emotional heart that I announce my departure from EST. A club which I have had the pleasure to play for. Which saw me grow as a player, reach my dreams of playing for the national team and help me get where I am today.
It has... undoubtedly been one of the most difficult decisions I've had to make in my life so far. One that was made ever more complicated by my close connection with the amazing fans of this club. I can't thank you enough for your love and unconditional support through the good times and more importantly through the bad times. Especially when I was injured and nobody really believed in me. Your support gave the strength and energy to work hard and come back at a time when Taraji needed me the most. We shared some unforgettable moments together winning back to back champions league titles, in such an important year in the history of the club.
I also want to say thank you to my teammates with whom I experienced many ups and downs. It was an absolute honor to [have] played alongside you. A special thought for my teammate and older brother @badri_anice_officiel . I learned so much from you and spent some amazing times with you. I will miss you very much bro. Thanks also to President Si Hamdi Meddeb for the opportunity to play for Taraji and for always believing in me. I would also like to thank all the coaches and staff who helped me throughout my time. All the medical staff who helped me comeback from a career threatening injury.
Regarding my decision to leave. I have decided to move to Europe to continue to progress and improve as a player. I chose to join @hac_foot as it is a historical and ambitious club, which has consistently produced world class players. I promise to give all my determination to bring the club where it belongs, to Ligue 1.
Concerning my family the Esperantists this is only a goodbye. We will meet again Insha'Allah. It was an honour to wear the blood and gold shirt. Believe me when I tell you I gave my absolute all every time I put the jersey on never taking the responsibility lightly. So with that I wish you all the success in the future.
Best regards,
Ayman