Vous n'êtes pas identifié(e).
ESTfan

Administrateur

Lieu : Tunisie

Inscription : 25-08-2008

Messages : 44 778
Aymen Ben Mohamed: '... I have to get used to being recognised now'
'In Ireland, nobody knows who I am, but I have to get used to being recognised now'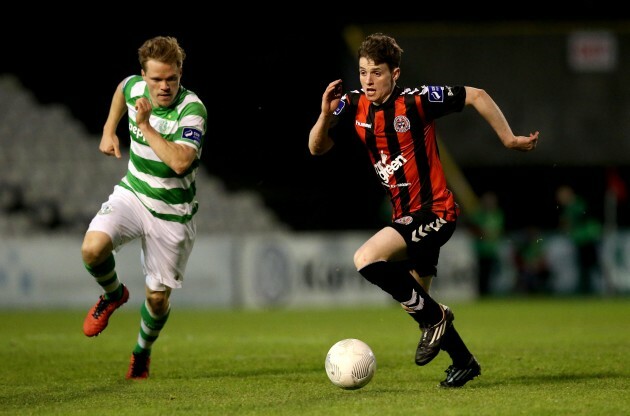 Ben Mohamed was one of the standout performers for Bohemians during his short stay with the club.
IN MANY WAYS, Aymen Ben Mohamed's background illustrates the changing face of modern Ireland.
Born in London to an Irish mother and a Tunisian father, he and his family moved to Dublin when he was just two years of age.
The former Bohemians star grew up feeling both Irish and Tunisian, often travelling to the North African country during his summer holidays to visit relatives which helped enhance his emotional connection with the country.
Little did he know, but Ben Mohamed's affiliation to Tunisia would only grow stronger in time.
It all started during a whirlwind couple of months last summer, which would result in his fledgling football career taking an unexpected turn – beginning with one phone call outside the Trinity College library.
An unknown number appeared on the phone of the Business, Economic and Social Studies student as he was studying for an exam.
Ben Mohamed instantly recognised it was a Tunisian number, but he was unsure who was on the end of the line.
To his disbelief, the person was a representative of the Tunisian Football Association inquiring if he would be interested in representing his father's nation in international football.
Ben Mohamed, who only moved to Bohemians from Longford Town at the start of the season, had already become a fan favourite at Dalymount Park, with his fine technical ability being matched with a fearlessness to get on the ball and attack opposing defenders.
At the time, the Dublin-raised Ben Mohamed was also focused on earning a degree as he mixed his studies at Trinity with playing in the League of Ireland.
Combining the two – he believes – resulted in complimentary results.
"It gave me balance and I believed it helped me long term."
The talented winger, who has shown to be a high achiever on and off the pitch, wanted to study medicine in college, and repeated the Leaving Cert in an attempt to get the points he needed after missing out on his preferred course.
His second effort resulted in a highly-impressive tally of 560 points – 50 more than his original total – but not enough to study medicine.
Such is his determination, there is still an air of disappointment in his voice when he talks about those results.
But to this day the 22-year-old is still unsure how he arrived on Tunisia's radar. The League of Ireland is not a hotbed for national team managers scouting potential talent, but he speculates a Tunisian person living in Ireland may have alerted the association of his potential availability.
And it was without hesitation that he accepted the invitation to join the Tunisian national side for the African Cup of Nations qualifier against Djibouti.
However, that's not to say the tricky winger never harboured ambitions to pull on the green of Ireland.
"But my Dad always reminded me of where we came from and being Tunisian was something I was also proud of."
Despite Ben Mohamed's undoubted potential, no call from the FAI was forthcoming to try and persuade the player to delay committing to another country.
Players from the top leagues in England, France and Germany were included in the 18-man squad for the qualifier, but it was the language barrier, rather than the calibre of player that he would be linking up with, he felt was the most difficult and daunting aspect.
"I'm not going to lie, it was quite difficult. I was quite nervous meeting the team," Ben Mohamed recalls. "I didn't know what to expect, but they were all very welcoming.
"I did have some Arabic from my time visiting my grandmother, so I wasn't completely new to the language, that was the main issue, but there were some players there that spoke English.
"Bilel Mohsni, who played for Rangers, helped me a lot and he was very nice to me. I wouldn't say it was very easy to integrate but I got by. I enjoyed it, it was a great experience."
Although he failed to feature in the 3-0 win over Djibouti, Ben Mohamed hoped that the international recognition would act as a springboard to greater things – and he was to be proved right.
Two months later, 26-time Tunisian champions L'Espérance Sportive de Tunis came looking for his signature, with the former UCD and Longford player swapping the Irish capital for Tunisia.
Naturally, it has taken several months for Ben Mohamed to make Tunis, the nation's capital city, feel like home amid political uncertainty in the country following the 2011 Arab Spring, while within the club, first-team opportunities were limited with the two-time African champions.
"It has taken a while to settle in. It's a quite different environment as you could imagine. A different language, a different culture. Everything is quite different.
"It has taken time for me to adapt, but I do feel like I am getting used to life over here and to enjoy it more.
"I feel I am quite fluent in Arabic now so that's no longer an issue, and I have my grandmother, aunties and uncles here, so that's a big help.
"The people here also speak French and I still struggle with that. I had intended on taking classes, but I haven't really followed up on it, but I hope to start."
The recent arrival of new manager, Faouzi ­Benzarti, has reinvigorated Ben Mohamed's career with the club that has won twice as many titles as any other team in the country.
That appointment coupled with the league taking a short break due to the national team's involvement in the recent African Cup of Nations, allowed the midfielder to impress during a training camp, and in exhibition matches.
In fact, four players from the club were part of the Tunisia squad for the competition, where they were knocked out by Burkina Faso in the quarter-finals.
And last week Ben Mohamed made a significant breakthrough as he started at wing-back in the cross-city derby against Club Africain on Wednesday, the side who have the second-most league titles – 13 championships behind Espérance in the record books.
Conceding a last-gasp winning goal, however, slightly soured his second league appearance.
"It is a big derby game between us. There is massive pressure in these matches, and the derby games mean a lot over here.
"They are passionate fans. They are crazy about football. All the clubs are well-followed, it's not like in Ireland, where people have a different team to support. It helps to generate a great atmosphere.
"It's a bit strange being over here. In Ireland, nobody knows who I am, but I have to get used to being recognised now."
Despite the loss, Espérance who play at the 60,000 capacity Stade Olympique de Rades stadium, have plenty to look forward to in the coming months with the side set to be involved in the six-team play-off to decide the league champions, with the African Champions League, the Arab Club Championship and the Tunisian Cup also on the horizon.
Reflecting on life away from Ireland, Ben Mohamed says missing family and friends is the hardest part of life in Tunisia – but there is also a degree to finish. He has asked Trinity to retain his place on the course, with two years remaining until he can graduate.
"You never know, I took the decision to pursue football and hopefully I won't have the need to go back to college.
"I want to establish myself here, and reach my main goal of playing for Tunisia and to play in major tournaments."
the42.ie